Thermalbad und Saunalandschaft
Thermal bath & Sauna area
Luxury for body and soul. The Häcker`s Fürstenhof is the only hotel in Germany to have a naturally warm Glauber's salt thermal bath. Recharge your batteries and vitality here.
Pure relaxation
The "Palais Belle Époque" will enchante you with its luxurious and magnificent ambience. Relax here in the saunas and steam grottos. Refresh yourself in the ice grotto or under the adventure shower.
Amenities
Thermal bath

 

Tecaldarium
Finnish Sauna
Flower steam bath
Roman steam bath

 

Royal sauna
Ice grotto
Whirlpool
Vulcanic grotto

 

Foot bath
Adventurous showers
Relaxation room 
Daytime wellness
Our wellness offers are also available to our day guests. The day ticket for our sauna and wellness area is:
25,00 Euro per person per day
14,00 Euro per person – from 5.00pm (Please note the opening times)
In addition to our "Palais Belle Époque" wellness and sauna area, you can also enjoy being pampered in our other in-house wellness departments. Just give us a call, we will be happy to advise you: Tel. +49 (0) 2674/9340
Please understand that when the house is fully occupied, our hotel guests have priority on the use of the wellness area. In these cases, the management reserves the right to close the wellness area for external guests at short notice. We would be happy to give you information about the frequency of use over the phone.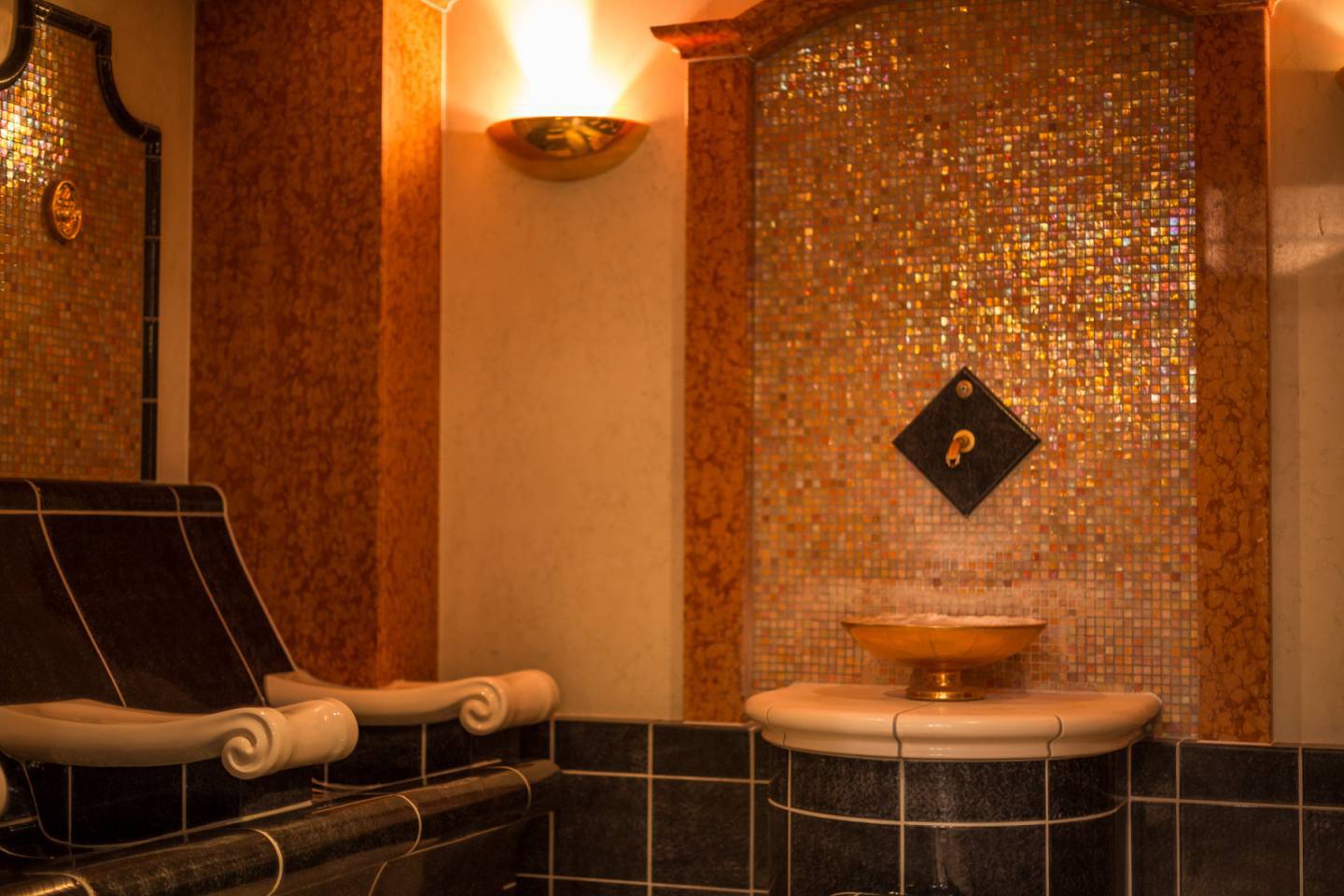 Opening hours
Our thermal bath is available daily from 10.00am to 9.00pm.
Our wellness & sauna area "Palais Belle Époque" is opened:
Monday till Friday: from 1.00pm to 7.00pm 
Saturday & Sonntag: from 12.00pm to 8.00pm
Golden Sauna Rules
Dear guests,
our sauna area is a nude bathing area according to the German sauna regulations for hygiene.
In the steam baths as well as in all saunas, you should take off your swimwear and use the wellness towels provided for them to cover and to sit on.
We have listed a few useful tips for those who are not regular sauna-goers but still want to relax in our sauna area:
Do not go to the sauna hungry or on a full stomach.
First, cleansing takes place in the shower, because "clean" skin (e.g. pores that have been freed from cream residues) sweat better.
In the sauna you can put your towel under your whole body.
The sauna session should take about 15 minutes. Rely on your feelings.
You should sit for the last two minutes so that your circulation gets used to the upright posture.
After the sauna, you should treat your body to some oxygen and go out into the fresh air.
The cooling should start carefully and at the foot (a point which is furthest from the heart).
Then you should treat yourself to a short break, this promotes recovery.
There should be around 20 minutes between each sauna session.
Your body loses a lot of fluid during the sauna (approx. 0.5 liters for 10-15 minutes), so you should drink plenty of water, tea or juice spritzers to compensate.
Advantages of a regular sauna visit:
- Improved defense functions of the body and protection against infections
- Good skin cleansing
- Strengthening the cardiovascular system
- Relaxation and recovery, as well as a balancing effect on blood pressure
When do I avoid saunas?
- in acute infections, especially fever
- in the event of severe vascular changes, especially in the heart and brain
- with inflammation of internal organs or phlebitis
- in acute rheumatism, epilepsy and cancer